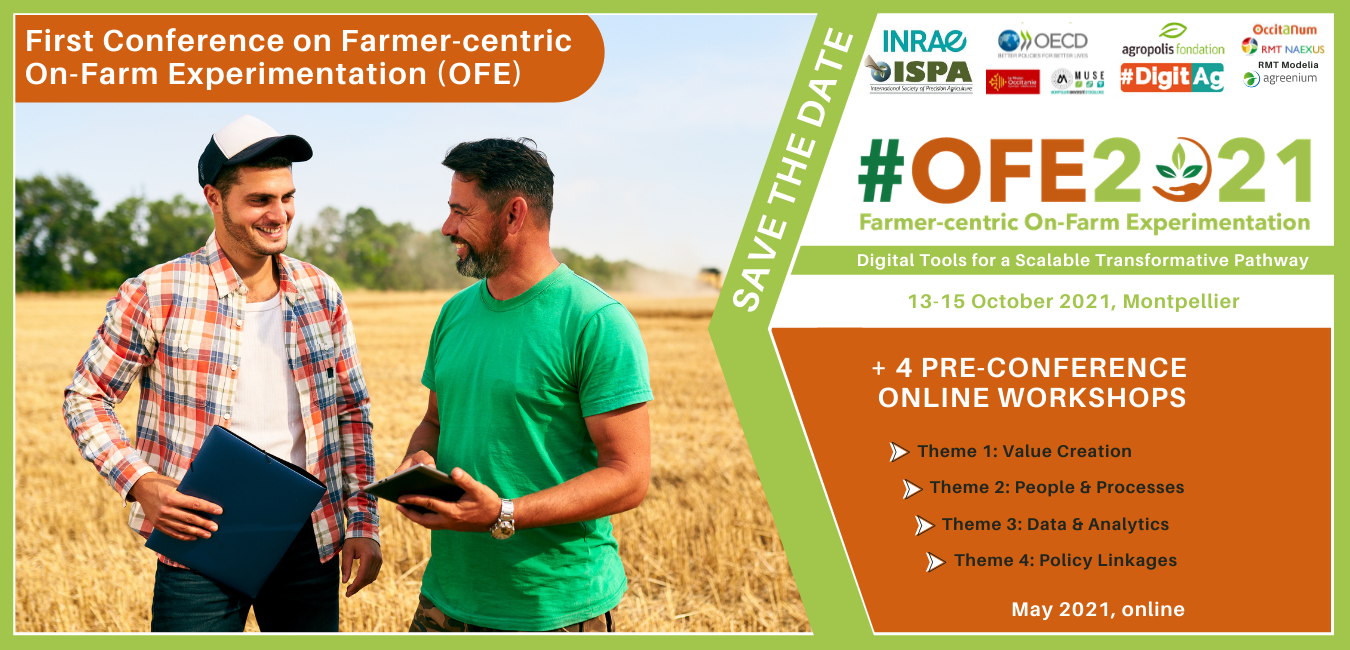 Took place 13th-15th of October 2021, virtual and in situ in Montpellier, France
 
Thank you for your participation!
180 participants from 36 different countries (140 on-line and 40 in-person)
This conference was conducted in a hybrid format that included:
- 4 pre-conference webinars in May 2021
- 2 days of presentations in plenaries
- 1 day dedicated to a field tour in Montpellier and a workshop to develop policy propositions

Most of the 180 participants (40 people in Montpellier and 140 on-line) were researchers, with other attendees representing farmers' associations, start-ups, NGOs, and policy makers.
The conference achieved widespread geographical representation with 36 countries (54% from Europe, 16% from North America, 8% from South America, 8% from Asia, 8% from Africa and 6% from Oceania).

The conference was structured around invited speakers addressing the four above-mentioned themes, as well as short video e-presentations. These were made available online as an alternative to traditional posters, with a selection of 20 also presented during plenaries.
The call for abstracts led to the selection of 80 submissions (30 papers and 50 short presentations) that showcased OFE activities and projects worldwide. This material, additional to that of invited speakers, demonstrated the existence of a very rich and diversified scientific production. The three best conference papers were awarded by the Scientific Committee.
---
Can we innovate differently in agriculture, by bringing together practitioners and researchers?
Farmer-centric On-Farm Experimentation (OFE) is gaining interest worldwide as a practical mechanism to bridge formal and informal knowledge by embedding research into real-world farm management. A particularly promising avenue for OFE is the use of digital technologies to document and support agroecological transition while paving the way for transformational change in agricultural research and innovation.

Pre-conference webinars: May 2021 (recordings available)
Contact
contact [at] hdigitag.fr
Convenors
Dr Véronique Bellon Maurel, INRAE, #DigitAg Director, France
Dr Nicolas Tremblay, International Society of Precision Agriculture (ISPA), Canada
Prof Simon Cook, Murdoch University, Centre for Digital Agriculture, Australia
Organised by INRAE-#DigitAg and the ISPA OFE-C (International Society of Precision Agriculture, On-Farm Experimentation Community).

Sponsored by the OECD's Co-operative Research Programme on Biological Resource Management for Sustainable Agricultural Systems, the Agropolis Foundation, #DigitAg, the Occitanie Region,  Montpellier University of Excellence, Occitanum, Agreenium, RMT Modelia,  RMT NAEXUS, MAK'IT and INRAE.

---