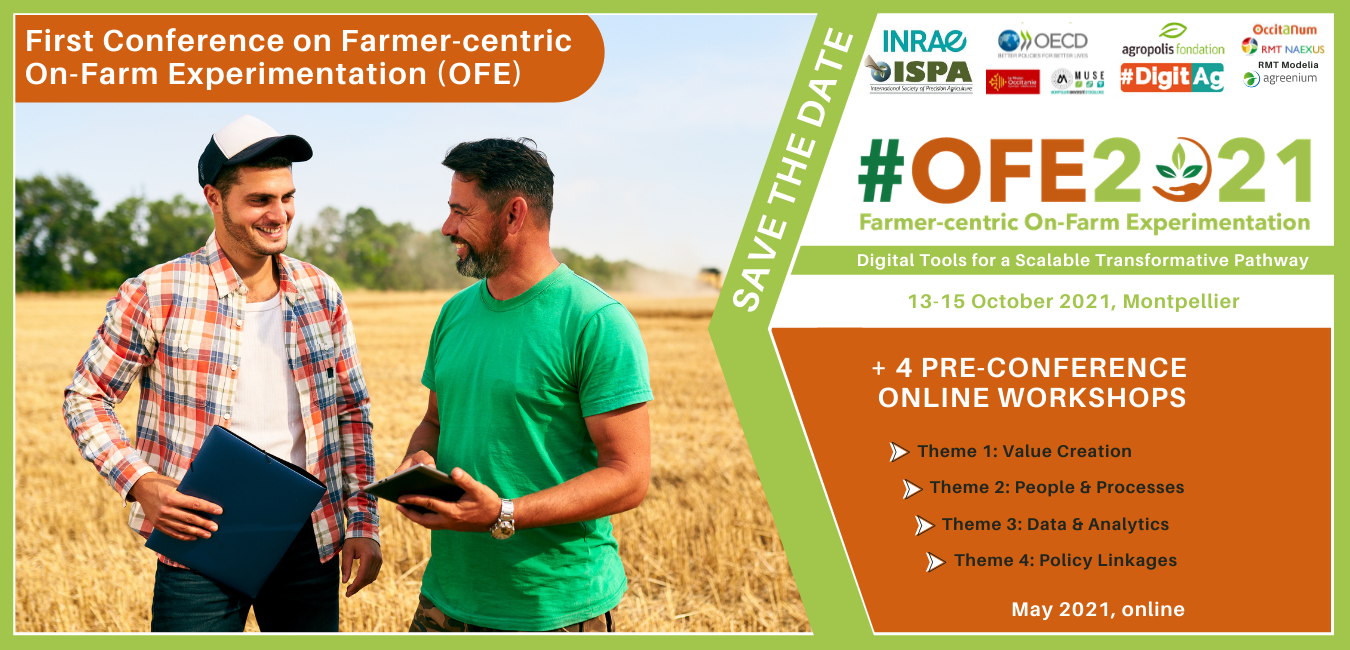 Took place from 13th-15th of October 2021, virtual and in situ in Montpellier, France
 
Thank you for your participation!
We counted with 140 participants on-line and 40 in-person, from 36 different countries.
Can we innovate differently in agriculture, by bringing together practitioners and researchers?
Farmer-centric On-Farm Experimentation (OFE) is gaining interest worldwide as a practical mechanism to bridge formal and informal knowledge by embedding research into real-world farm management. A particularly promising avenue for OFE is the use of digital technologies to document and support agroecological transition while paving the way for transformational change in agricultural research and innovation.

Pre-conference webinars: May 2021 (recordings available)
Key Dates - Subscribe to the Conference updates
E-presentations (4-min) and/or papers (5 pages): 
> Abstracts submission (150 words): 30th of June, 2021 (closed) 
> Abstracts selection decision: 15th of July, 2021
> Submissions (recordings/powerpoints/papers): 6th of September, 2021
> Revised submissions: 5th of January, 2022
OFE2021 Conference:
> Early bird registration: 8th of September, 2021
> Plenary and presentation sessions: 13th and 14th of October, 2021 (in Montpellier and online)
> Focus groups / technical tour: 15th of October, 2021
Contact
ofe2021@inrae.fr
Convenors
Dr Véronique Bellon Maurel, INRAE, #DigitAg Director, France
Dr Nicolas Tremblay, International Society of Precision Agriculture (ISPA), Canada
Prof Simon Cook, Murdoch University, Centre for Digital Agriculture, Australia
Organised by INRAE-#DigitAg and the ISPA OFE-C (International Society of Precision Agriculture, On-Farm Experimentation Community).

Sponsored by the OECD's Co-operative Research Programme on Biological Resource Management for Sustainable Agricultural Systems, the Agropolis Foundation, #DigitAg, the Occitanie Region,  Montpellier University of Excellence, Occitanum, Agreenium, RMT Modelia,  RMT NAEXUS, MAK'IT and INRAE.

---

Conference registration fees apply